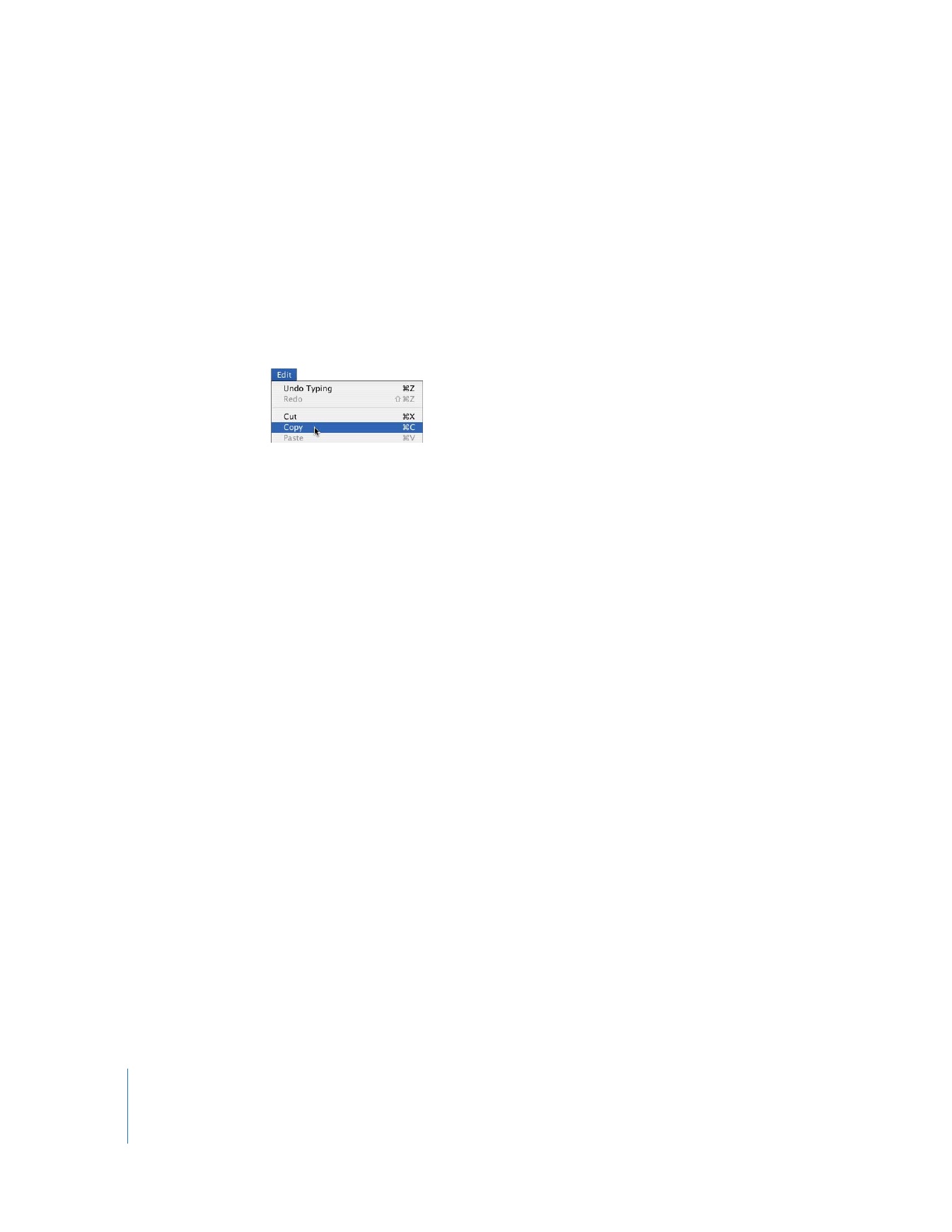 Useful Terms to Know
Here are brief definitions of some of the terms you'll see as you work with iWeb.
Â
AdSense ad:
A service provided by Google that enables you to place advertisements
relevant to the surrounding page content on any page in your website. You earn
revenue from Google when your website visitors click ads.
Â
blog:
A web-based journal that can contain text, photos, and other media. For more
information, see "Creating a Blog" on page 14.
Â
browser:
An application you use to visit websites. (Mac OS X comes with a browser
called
Safari
.)
Â
Domain file
: The file on your computer that contains all your iWeb website data.
Chapter 1
Welcome to iWeb
5
Â
domain name:
The root (the first part, after "http" and "www") of your site's web
address is its domain. For example, the domain of the site www.example.com/index
is "example.com."
Â
homepage:
The first page that appears when you visit a website. Sometimes called
the
start page
or
default page.
Â
hyperlink:
Text or an object you can click to initiate an action, such as going to
another webpage or opening a document. Most text hyperlinks (also called
links
)
look different from surrounding text (they are underlined or a different color) to
indicate that you can click them.
Â
Internet:
A worldwide network of computers that makes it possible for people to
communicate with one another and share information.
Â
MobileMe:
A membership-based Internet service provided by Apple Inc. Your
MobileMe subscription provides one-click publishing for your iWeb sites, ad-free
email services, photo and video sharing, online backup, synchronization, and much
more. For more information, visit www.me.com.
Â
navigation menu:
The website table of contents. The navigation menu lists pages in
your website as links that visitors can click to go to individual pages. iWeb
automatically creates a navigation menu for your website.
Â
podcast:
An audio or video file that is like an Internet radio or TV show. You can
produce your own podcasts and let visitors download them one by one, or they can
download new episodes automatically through a subscription.
Â
RSS:
A feature that enables visitors to subscribe to the contents of a website and
receive automatic updates when new blog entries, podcast episodes, or photos are
added to the site.
RSS
stands for "really simple syndication." When visitors subscribe
to the site's
feed
, the updates are sent to the RSS
reader
of their choosing.
Â
URL:
The website address, which you enter in a browser to go to a website. (
URL
means "Uniform Resource Locator.") A typical URL looks like this:
http://www.apple.com
Â
web:
The web (or World Wide Web) is all the sites, pages, text, media files, and links
that people interact with when they get on the Internet. Although it is common to
use the terms
web
and
Internet
interchangeably, the Internet is actually the hardware
and software network upon which the web is built.
Â
website:
A collection of individual webpages that are linked together into a website.
Websites are usually organized around a theme, an individual, or an organization.
Also called
site
.
Â
webpage:
A single page within a website. Also called
page
.
Â
web widget
: An object that embeds content from the web into any of your
webpages. For example, a Google map or a snippet from another website such as
YouTube.
6
Chapter 1
Welcome to iWeb